Migrate From WordPress to Shopify
Making the choice to migrate from WordPress to Shopify in 2024 in USA will benefit people and companies looking to increase online visibility and simplify e-commerce processes. WordPress is a popular and comprehensive content management system for blogs and websites that emphasizes written content due to its flexibility and content-focused approach.
But as the digital world changes, more and more people are realizing the importance of having a unique e-commerce platform with great features and advanced online business capabilities. The move to Shopify, a popular e-commerce platform, is a reflection of changing business needs and aims to provide customers with a smooth and efficient shopping experience.
Importing content, updating your website, optimizing it for mobile devices, and improving the user experience can all be part of this process. The decision to move to Shopify in 2024 demonstrates a commitment to stay at the forefront of e-commerce as the digital world changes.
How to migrate from WordPress to Shopify
There are steps involved in migrate from WordPress to Shopify in USA. Plan your migration in advance, identifying the data and content that need to be migrated. Create an account on Shopify and choose a suitable theme for your store. Using a tool or plugin, export your WordPress content. Then, import it to your Shopify store using the Shopify WordPress plugin. Manually edit your product listings, customize your store's navigation, and change its appearance to better reflect your brand.
Plan and Get Ready: Give a summary of your migration plan first. Determine the essential elements, including items, content, and customer information, that you wish to transfer over from your WordPress website to Shopify. List all of the Shopify options you plan to use, such as payment gateways, themes, and apps.
Create a Shopify Store: If you do not already have an account on Shopify, create one now. Select a price plan that works for you.
Choose a Theme for Shopify: Select a Shopify theme that goes well with your items and brand. The theme can be altered to reflect your preferred style.
Install and Set Up Applications: Install whatever apps you require to improve the functionality of your store, such as inventory management, email marketing, or SEO optimisation, by exploring the Shopify App Store.
Establish a Payment Gateway: Set up your Shopify payment gateway so that consumers can make payments. PayPal and Shopify Payments are two well-liked choices.
Set Up Shipping Preferences: In Shopify, provide your shipping choices, costs, and guidelines to guarantee a seamless checkout procedure.
WordPress to Shopify Migration
Migrate from WordPress to Shopify in USA is a major change that is often made to improve e-commerce operations. Schedule changes and choose what to move first. Create a Shopify store, choose a suitable theme, and use tools or plugins to export content to WordPress. Importing content is easy with the Shopify WordPress plugin. Product listings need to be updated manually, and any changes made to the store's appearance need to align with your brand.
Installation and configuration of relevant programs, as well as payment gateway and shipping settings, are required. Comprehensive testing ensures the store runs smoothly. Maintaining SEO requires updating domain settings and 301 redirect settings. Finally, activate the Shopify store and declare it open. These migrations can be varied and complex, so careful preparation and execution are essential for a smooth transfer.
WHAT IS W2S – MIGRATE WOOCOMMERCE TO SHOPIFY?
The service or process known as "W2S – WooCommerce to Shopify Migration" is to help companies switch from WooCommerce, the popular WordPress e-commerce platform, to Shopify, a dedicated e-commerce platform. This service is for those who want to take advantage of Shopify's extensive feature set and intuitive user interface to improve their online business operations and simplify their business processes.
Product listings, customer information, orders, and other related data are often migrate woocommerce to shopify in USA to a newly created or existing Shopify store as part of the conversion process. This can also include setting up payment channels, planning shipping methods, redesigning store decorations to better display brands, and ensuring a smooth customer transition.
Services for Migration from WordPress to Shopify
To make the transition from WordPress to Shopify in USA easier and more effective, many services and tools are available. Among these tools and services are the following:
Shopify WordPress Plugins: To make the shipping process easier, Shopify offers official plugins. It helps you import blogs and pages from WordPress directly into your Shopify store.
Professional E-commerce Companies: Many e-commerce companies focus on mobile websites, such as WordPress or Shopify. They can take care of everything for you, guaranteeing a seamless transition and offering flexibility to suit your unique needs.
Shopify Migration Program: The Shopify App Store offers several third-party migration programs. By simplifying the migration process, these apps support the transfer of orders, items, and customer information from WordPress to e-commerce.
Data Migration Services: Many businesses offer data migration services specific to e-commerce platforms. They can manage the transfer of customer information, product listings, and other important data.
Web development company: A web development company with experience in Shopify and WordPress can provide full migration services, including content transfer and design changes.
How do I migrate from WordPress to Shopify?
Migrate from WordPress to Shopify to be effective, there are several steps that must be taken. Plan your journey first, determining which products, content, and data you want to transfer to your new Shopify site. After that, create a Shopify account and choose a theme that suits your brand. To import your WordPress content—including blog posts and pages—into your Shopify store, use the Shopify WordPress plugin.
Product listings on Shopify need to be updated manually. To add functionality, install the required apps from the Shopify App Store and customize the Shopify theme to match your logo. Set up your shipping and payment gateways according to your business needs. To maintain SEO ranking, adjust the DNS settings for your custom domain and set up 301 redirects after thorough testing to ensure everything is working as it should.
Finally, go to your Shopify store and tell people about the debut. Keep in mind that migration processes can vary in complexity, and consulting a professional can be helpful, especially for larger and more complex websites.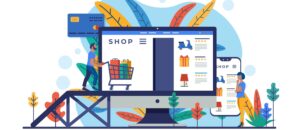 Frequently Asked Questions
Q1: How do I migrate the whole WordPress website to Shopify?
A1: Migrating a WordPress website to Shopify involves several steps: planning, exporting content, manually creating a catalog, setting up a Shopify store, and setting up payment and shipping options. To improve SEO, you also need to test your new site, change DNS, and set up 301 redirects. Professional assistance may be required to ensure a smooth translation.
Q2: Is it easy to migrate from WooCommerce to Shopify?
A2: Migrate woocommerce to shopify can be easy, especially for smaller stores with simpler needs. Shopify provides services and solutions to facilitate migration. On the other hand, larger and more complex e-businesses may require additional planning and possible customization. In certain circumstances, professional assistance may be required to ensure a successful and smooth transfer.
Q3: Can you transfer a domain from WordPress to Shopify?
A3: Yes, it is possible to transfer domains from WordPress to Shopify. To do this, you'll need to change your domain's DNS settings to point to your Shopify store. Additionally, to maintain your SEO rankings and ensure a smooth transition for visitors coming from search engines or bookmarks, you should set up 301 redirects from the old WordPress URLs to the new Shopify URLs.
Q4: How do I migrate from WordPress to Shopify without affecting Google search ranking?
A4: Setting up 301 redirects from old WordPress URLs to new Shopify URLs will allow you to migrate from WordPress to Shopify without affecting Google search results. Thus, the fairness of SEO is maintained. Make sure all content is consistent, including alt text and meta tags. Upload the updated sitemap to Google Search Console and monitor for issues. Both during and after the move, you can maintain your search engine ranking by continuing to create high-quality content and using SEO techniques.
Conclusion
To summarize, the choice to migrate from WordPress to Shopify in 2024 is a calculated move for people and businesses trying to improve their online visibility and adapt to the changing e-commerce landscape. Shopify offers advanced e-commerce features, while WordPress shines on content-focused websites.
A carefully thought-out plan that includes content migration, theme selection, customization, application installation, and extensive testing is necessary to make this journey easier. Preserving search engine rankings and ensuring a seamless transition are essential factors. Choosing to migrate, whether with professional help or doing it yourself, shows that you are committed to maintaining the highest e-commerce standards in the digital age.
Read More Blog: