Factors to consider?
According to a recent study, 70% of Americans are increasingly shopping online. This indicates a thriving e-commerce market, making it an advantageous time to establish an online store. Shopify is among the top e-commerce platforms to consider for your business launch, and its popularity stems from its affordability, user-friendliness, ability to scale, and robust security measures.
The flexibility provided by Shopify themes is an outstanding feature that many e-commerce store owners appreciate. With numerous paid and free themes to choose from, you can design a distinct online store that delivers a seamless user experience (UX) for your customers. It's likely one of the reasons why over a million businesses have opted for Shopify as their preferred platform to create their e-commerce stores.
What Are Shopify Themes?
In essence, Shopify themes refer to pre-designed templates that dictate the appearance and overall impression of your online store to visitors. The various themes come with distinct styles and layouts that offer unique user experiences (UX) to your customers based on their design.
Given that design significantly influences how your store appeals to, interacts with, and ultimately converts potential customers, the Shopify theme you settle for is crucial to your business's prosperity.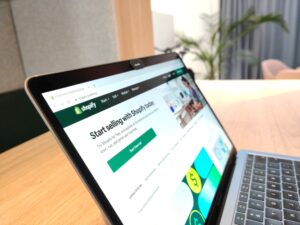 Switching the Shopify theme, will it cause your store to malfunction or become unusable?
Many store owners worry that altering their Shopify theme could potentially damage their store, but this is not the case.
Changing your Shopify theme or customizing your current one will not impact your content or any other aspect of your account. Therefore, you can confidently experiment with different theme settings or even opt for a new Shopify theme that appeals to you. Rest assured that your e-commerce store will remain functional, and if you handle the change correctly, there will be little to no downtime.
What makes your Shopify theme so important?
Having understood what a Shopify theme is, it's worth exploring why your choice of theme matters significantly.
Projects Your Brand Personality Your brand is a critical asset for your business. It encompasses more than just your logo and extends to your brand personality. This personality refers to a set of human attributes that can be associated with your brand, such as sophistication, excitement, fun-loving, sincerity, ruggedness, and so on.
The theme you select plays a vital role in projecting your brand personality to potential customers, creating a lasting impression of what your brand stands for. Therefore, choosing a theme that aligns with your brand's personality is vital to ensure that your e-commerce store resonates with your target audience.
Your theme's role is crucial in reflecting these brand characteristics, as it helps your Shopify store appeal to customers who appreciate and relate to your brand personality. This, in turn, can foster customer loyalty and attract new customers who identify with your brand.
Determines Your Website's User Experience (UX) Your theme is a critical component of your store's design as it shapes the overall user experience (UX) of your website. This is because the theme dictates vital aspects of your e-commerce store, such as navigation, layout, colour schemes, aesthetics, and other essential elements that impact how visitors interact with your website.
Your theme largely influences the experience that customers have when navigating your store, interacting with your content, and searching for products. A well-designed theme can create a positive experience that encourages customers to return. In contrast, a poorly designed theme can create a negative experience and result in high bounce rates, driving potential customers away from your store.
Determine Your Budget
Shopify themes are available at varying price points, and it's essential to determine your budget before selecting a theme. The price of a theme is influenced by factors such as the experience and reputation of the developer, the level of customization and flexibility, and the range of functionality it offers. Themes with additional features such as forms or SEO capabilities typically cost more. It's crucial to review the features and functionality of a theme before purchasing it, ensuring that you get value for your money.
Give Priority to Themes on the Shopify Theme Store
When selecting a Shopify theme, it's advisable to prioritize themes available on the Shopify Theme Store. Although you can find themes from various theme marketplaces, Shopify's theme store is a reliable source of quality, secure themes. This is because Shopify meticulously scrutinizes all submitted themes. Additionally, choosing a theme from Shopify's theme store guarantees regular updates and world-class support.
Make a List of the Key Features and Functions You Need in Your Theme
Identifying the essential features and functionality you need is the key to picking the ideal Shopify theme for your store. Do you need a slide-out cart drawer? Is a video player a priority? Do you require forms, landing pages, or a blog?
Finding a theme that has most of the features you need can help you save on development costs. If you find a theme with one of the important features you're looking for but lacks other features, it's best to move on. You can always hire a developer to add missing features later.
To identify the features included in a theme, you can check the theme preview page. However, some features may not be listed there, so it's best to play around with the theme demo. Additionally, you can use live store examples to get a better feel for all the features of a theme you're considering.
Decide Your Niche
When selecting a Shopify theme, it's crucial to ensure that it's designed for your specific industry or niche. Most themes are created with particular industry types in mind. For instance, a theme designed for selling fine art pieces may not be suitable for an e-commerce store that offers various electronics and accessories. The electronics store would require a theme that can handle multiple categories and advanced search capabilities, whereas the art store would not need as much advanced functionality.
To find the best Shopify theme for your niche, it's essential to filter your top picks by industry. Fortunately, the Shopify theme store provides an easy-to-use search feature that allows you to search for themes by niche and the number of products you have.
Aesthetics and Design
The global e-commerce industry is worth an astounding $4.2 trillion in sales. To carve out a share of this market, it's crucial to both attract and retain customers on your Shopify store. This is the key to achieving long-term success and growth in the e-commerce industry.
While attracting customers can be achieved through search engine optimization (SEO) best practices, such as keyword research, retaining them on your site is all about your design and aesthetics. A well-designed Shopify theme can simplify the design process by providing an attractive storefront, colour palettes that match your brand, and a clean and easy-to-understand user interface (UI).In addition to looking fantastic, a well-designed Shopify store will promote more conversions.
Choose Lightweight Mobile responsive themes
In the world of e-commerce, website speed plays a crucial role in the success of an online business. A slow website can negatively impact your search engine rankings, conversion rates, and bounce rate. Therefore, it's essential to choose a fast, lightweight Shopify theme that delivers an optimal user experience.
Lightweight themes prioritize performance and simplicity by avoiding unnecessary elements like animations and fancy scrollers that can increase page load time. The goal is to create an easy-to-navigate website that encourages visitors to take action.
In addition to being lightweight, it's also essential to select a mobile-friendly theme. With the rise of mobile devices, a significant portion of your traffic is likely coming from smartphones and tablets. A mobile-friendly theme will ensure that your website looks and performs well on smaller screens.
Optimised checkout experience
According to studies, approximately 75 percent of e-commerce sales are lost due to cart abandonment. The difficult checkout procedure is one of the main causes of cart abandonment. Therefore, it's crucial to ensure that the Shopify theme you choose provides an optimized and streamlined checkout experience.
A quick and simple checkout procedure, attractive add-to-cart buttons, and a clear cost display are all features of the best Shopify themes.
The checkout process's simplicity should be a top priority, so choose a theme that makes it as easy as possible for customers to complete their purchases.
Great Shopify Themes
Conclusion
The e-commerce industry is rapidly expanding, with more entrepreneurs launching their online stores every day. Shopify is one of the most trusted platforms for launching an e-commerce store. It's important to choose your Shopify theme carefully as it can greatly impact your store's:
· User experience
· Aesthetics
· Performance
All of these factors can significantly influence your conversion rates. Therefore, it's crucial to select a theme that offers the best user experience, attractive design, and optimal performance.
ALSO READ: Natural Language Processing (NLP) Applications Uses In Business