Hire Flutter Developers
Hiring Flutter developers is a strategic move for businesses looking to build cross-platform mobile applications efficiently. Skilled Flutter developers possess expertise in Dart programming language and UI design, enabling them to create visually appealing and functional apps while reducing development time and costs.
Hire a Flutter developer from Netleon Technologies...
Hiring a Flutter developer from Netleon Technologies is a smart choice for businesses seeking top-notch Flutter app development expertise.
Netleon Technologies boasts a talented team of Flutter developers who are proficient in Dart programming language and possess strong UI/UX design skills. With our experience and knowledge, they can create high-quality, visually appealing and feature-rich cross-platform mobile applications.
Netleon Technologies focuses on delivering exceptional solutions within agreed timelines, ensuring client satisfaction. By hiring a Flutter developer from Netleon Technologies, businesses can leverage their technical expertise, professionalism and dedication to delivering outstanding Flutter app development services.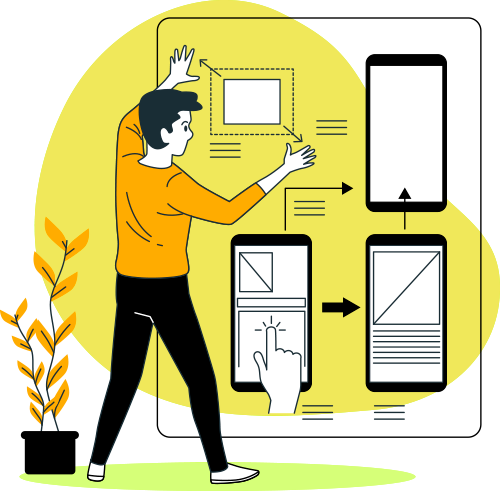 / Our Hiring Models
We offer a top-notch agile team for our customers to deliver high-performing results.
HIRE
Full Time

Part Time

Hourly
Cutting Edge Flutter Development Services that Netleon Delivers
Custom Flutter Development

Custom Flutter development refers to the process of building customized mobile applications using the Flutter framework. It involves tailoring the app's features, design and functionality to meet the specific needs and preferences of businesses or individuals.

Full-stack Flutter Development

Full-stack Flutter development involves using the Flutter framework to build both the front-end and back-end of a mobile application. It combines Flutter's UI capabilities with backend technologies to create complete, end-to-end solutions.

Blockchain Flutter

Blockchain Flutter refers to the integration of blockchain technology into Flutter applications, enabling secure and decentralized data storage, transaction verification and smart contract functionality for enhanced trust and transparency.

Wearable Flutter Development

Wearable Flutter development focuses on creating Flutter applications specifically designed for wearable devices, providing enhanced user experiences and functionality on smartwatches, fitness trackers and other wearable gadgets.

Flutter UI/UX Designing

Flutter provides a robust framework for UI/UX designing, allowing developers to create visually stunning and responsive user interfaces. Its customizable widgets and hot-reload feature enhance the design and development process.

AR/VR-based Flutter Development

AR/VR-based Flutter development involves leveraging the Flutter framework to create immersive and interactive applications that utilize augmented reality (AR) or virtual reality (VR) technologies, enhancing user experiences in a virtual environment.

Flutter Development Consulting

Flutter development consulting offers expert guidance and advice to businesses and individuals seeking assistance in leveraging the full potential of the Flutter framework. Consultants provide strategic planning, architecture design and best practices for you.

Cross Platform Development

Flutter enables cross-platform development, allowing developers to create mobile applications that run seamlessly on multiple platforms, including Android, iOS, web and desktop, with a single codebase, reducing development time and costs.

Maintenance & Support

Improve current Flutter applications while receiving comprehensive maintenance assistance from our qualified Flutter developers anywhere, anytime and for a reasonable price for your business. Hire our dedicated flutter developers today.
/ Tech Stack
Our Flutter Development Tech Stack
Mobx

Redux.dart

Inject

GraphQL

Flux

Flame

DartPad

Codepen

Pub.dev

Panache

Supernova

Adobe Plugins

Rive

Appetize

Android Studio

Firebase

Vysor

GitHub
Why Choose Netleon Technologies to Hire Flutter Developers?
Expertise and Experience

Our expert flutter developers have years of experience and they are very well-versed in the latest technologies to build customer apps with the latest industry standard.

Latest Technology

By utilizing Netleon Technologies application development services our customers are choosing to build their cutting-edge applications with the latest technologies making their product stand against the industry's competition

Transparency

Our team will update our customers weekly or on a basis about the project's progress so that customers can hand out their suggestions if any updates are needed.

Wearable Flutter Development

Hire Flutter developers from Netleon Technologies to develop devices like smartwatches that utilize the Internet of Things technology. Our developers ensure that they create or build user-friendly wearable apps for end-users.

Affordable Pricing Model

If customers hire Flutter developers in India from Netleon Technologies then they can save up to 70% of the total expenses for their business solutions. Hire Us Today!

Confidentiality with NDA

We sign a non-disclosure and service agreement to ensure that our client's sensitive data and IP addresses are safeguarded with Netleon Technologies, so they won't need to worry about the project's security.

Scalable Solutions

Our flutter developers ensure that our customer's products would be easily scalable without increasing resources and expenses. Thus hire our skilled flutter developers to grow and generate business revenue.

High-Quality Products

During the project preparation stage, our Flutter developers conduct extensive research to provide our customers with a high-quality and effective solution based on the most recent industry trends.

Maintenance

Once the project is up for the end users to use, our staff takes care to regularly monitor the site for bugs and other problems to prevent them from happening.
/ Our Expertise
Industries our Developers Focus On
/ FAQ
You may have questions