Netleon Technologies is a mobile app development company that specializes in Grocery Delivery applications development. We have a team of experienced developers who can create a custom Grocery Delivery app that meets your specific needs. Our apps are feature-rich and user-friendly and they are backed by a reliable support team.
If you are looking for a reliable and experienced mobile app development company to create your Grocery Delivery Application, then Netleon Technologies is a great option. We have a proven track record of success and we can help you create an app that meets your specific needs and exceeds your expectations.
Customer App
Your customers can seamlessly orders prdoucts from anywhere and at any time using our feature-rich app.
Seller App
Our Grocery Delivery app can help to increase sales by making it more convenient for customers to buy Groceries.Our apps can help you to expand the reach of Grocery sales by making your products available to customers in new areas.
Admin Panel
Admin panel has all the power to make decisions and control the whole Grocery Delivery Application. Its user-friendly and powerful layout eases the process to manage the On-demand online Grocery Delivery app.
Advanced Features
The section of advanced feature will unlock the other powerful features that enable you to manage Grocery Delivery app solution. It emphasizes the quality to stand out from the crowd of competitors.
In-App Features
Key Features Utilized in the Grocery Delivery App Script
Customer App
Ordering made better and effortless with our feature-packed Grocery Delivery App.
1

User Registration and Profile

2

Product Catalog

3

Search and Filters

4

Shopping Cart

5

Multiple Store Options

6

Customized Shopping Lists

7

Real-Time Order Tracking

8

Secure Payment Options

9

Bill Payments

10

Customer Support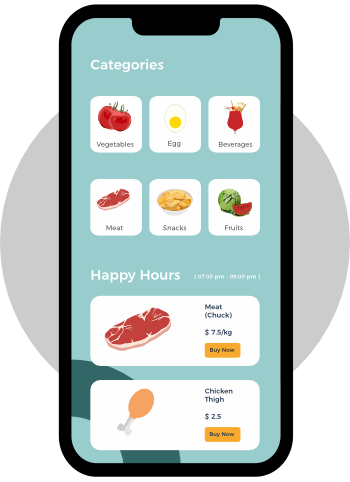 Seller App
Seller can effortlessly accept requests and offer their services via the app.
1

Store Management

2

Order Management

3

Delivery Slot Management

4

Product Catalog Management

5

Order Notification

6

Communication with Customers

7

Promotions and Discounts

8

Store Branding

9

Return and Refund Management

10

Seller Support
Admin Panel
With a robust Admin panel, the service provider can track and control both the customer app and the servicer app with ease.
1

User Management

2

Store Management

3

User Management

4

Order Management

5

Inventory Management

6

Delivery Personnel Management

7

Payment Management

8

Delivery Zone Management