/ About
About Our Client
The company was founded to address the significant shortage of drivers among car owners. Their market research revealed that many car owners were seeking reliable drivers for trips, planned or unplanned, but struggled to find trustworthy options.
Client incorporated the company to bridge this gap, providing well-trained, uniformed drivers who undergo rigorous background checks and possess excellent communication skills.
Services
Hourly rentals, One-way drops, Outstation trips
/ Growth
Meeting larger audience through developing a mobile application.
Developing a mobile application opens up opportunities to reach a larger audience and expand the reach of your business or service. With the increasing usage of smartphones, mobile apps have become a primary means for users to access information, products and services. By developing a mobile app, you can tap into this vast user base and cater to their needs directly through their mobile devices. Mobile apps provide a convenient and accessible platform for users to engage with your brand, make purchases, or access specific features.
They offer personalized experiences, push notifications and offline capabilities, enhancing user engagement and retention. Furthermore, a mobile app can help you stand out from competitors, improve customer loyalty and gain a competitive edge in your industry.
/ We Helped
/ Testimonial
"

Netleon has exceeded our expectations in developing our mobile app. Their expertise and professionalism were evident throughout the project. They ensured a seamless user experience and provided excellent support for website maintenance. We highly recommend Netleon for their exceptional services.

"
/ Challenges
Our Project Challenges
1
Market Competition
The transportation industry is highly competitive, with various established players and emerging startups. Gaining traction and differentiating from competitors requires a unique value proposition, efficient marketing strategies and exceptional customer service. Providing incentives, attracting both drivers and customers and maintaining a good reputation are ongoing challenges
2
Operational Efficiency
Managing a large driver network, addressing customer queries, handling payment processes and providing efficient customer support are ongoing operational challenges. Developing streamlined processes, implementing effective communication channels and optimizing operational workflows are necessary to ensure smooth operations and high customer satisfaction.
3
Technical Complexity
Developing a robust and user-friendly app with features like driver registration, user booking, real-time tracking, payment integration and communication requires expertise in mobile app development and backend infrastructure. It demands careful planning, efficient coding and thorough testing to ensure a seamless user experience.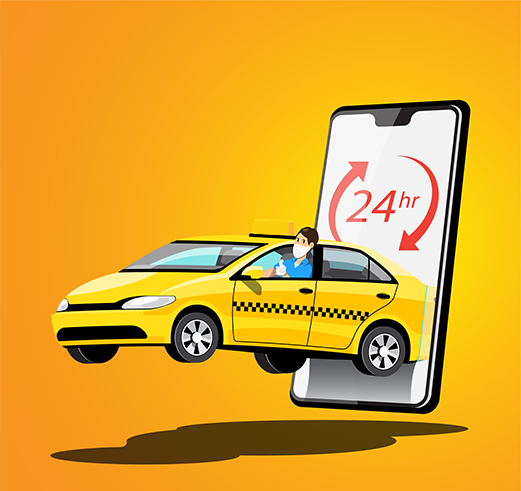 Helping our Client in Implementing Mobile App Features.
The entire project was carried out utilizing the BOOT (Build, Operate, Optimize, Transfer) framework. Once we fully understood the client's product vision, we laid a strong groundwork by creating the website and mobile application.
Some key optimizations we performed during client app development included:
Booking Management

Users can easily book a driver for their desired date, time and location using the app. They can specify trip details, such as pick-up and drop-off points and choose from available drivers based on their preferences and ratings.

Transparent Pricing and Payment

Client provides transparent pricing by estimating the fare for the trip based on distance, duration and other factors. Users can view the fare details before confirming the booking. The app supports secure and convenient payment options, including cash, credit/debit cards and digital wallets.

Real-time Driver Tracking

The app offers real-time driver tracking, allowing users to monitor the location of their assigned driver. This feature provides transparency and convenience by enabling users to track their driver's progress and estimated time of arrival.
/ Technology
Technology Stack
Client Mobile application was developed using advanced and open sources technologies such as:

/ Results
The Results
10000+
Registered Drivers
/ More Screens